WELCOME!

This site is your portal to health freedom. We provide information about hidden dangers to your health, about legislation affecting your freedom of choice and about those who would profit from dubious or obviously damaging "solutions".

It is up to you however, to follow the pointers we give, and to become active - after all, your health is yours.

This is the "historical" site of La Leva di Archimede. It contains much information published over the years of our existence.

For current news, go to www.laleva.org

EU Food Supplements - Will Directive Worsen Consumer Health?

The European Commission has issued a 'discussion paper' consulting those who have an interest - they call them stakeholders - on their plans to establish so-called upper safe levels, limits of the dosage of nutrients in healthy food supplements.
La Leva di Archimede commented on the discussion paper some time ago.
Here is the text of our comments (July 2006)

See also related:

EU Food Supplements - ANH Says Risk Assessment Models Erroneous
EU Food Supplements - Dutch Scientists Oppose Restrictive Legislation


12 October 2005
EU COURT UPHOLDS SUPPLEMENTS DIRECTIVE FUTURE UNCERTAIN
The 'Framing' of Food Supplements in the EU

From the frying pan into the fire of the 'Precautionary Principle and Risk Assessment'

Bert Schwitters, Dutch author and businessman, describes in intimate detail how the EU plans to remove some of the most effective natural products from the market, through the misuse of the Precautionary Principle. He uses his insight into the complex range of scientific and legal issues that have developed following his 25-year sojourn with the European food supplements industry, in making this analysis. During the 1980s, Bert helped to lay the foundations for the Dutch Association of Natural Products Manufacturers (NPN). His company, International Nutrition Company (INC), sponsors a research project, which isindependently reviewing the entire framework of EU and international food supplements regulation. INC, dedicated this scientific research project to the Alliance for Natural Health.

Read the article...


---
The Pharmaceutical 'Business with disease'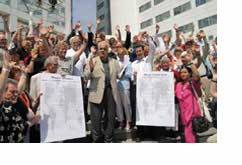 Complaint Against Genocide and Other Crimes Against Humanity Committed in Connection With The Pharmaceutical 'Business With Disease' And The Recent War Against Iraq
This complaint brings before the International Court of Justice (ICC) the greatest crimes ever committed in the course of human history. The accused are charged with causing injury to and the death of millions of people through the 'business with disease', war crimes and other crimes against humanity. These crimes fall under the jurisdiction of the International Criminal Court.

Laws are passed internationally to protect this pharmaceutical business from competition by food-based natural alternatives. Examples of such international legislation are the UN's Codex Alimentarius discussions of a vitamin and mineral supplements guideline as well as the European Food Supplements Directive. See our petition against this invasive and destructive legislation.

Article available in:

---
ENGLISH:
ITALIANO:
Search in our site:


Libri consigliati:
LaLeva's favourite books